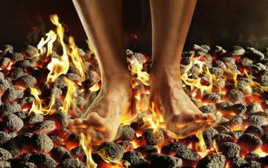 The results of the European elections last May were once again the image of the political crisis and the democratic bankruptcy of the EU since Maastricht. European citizens directly affected by the financial and economic crisis, have become aware of the reality of the political crisis of the EU and of the illegitimacy of the elections. Their votes reflected their will to finish with the scheme: major national parties (who cannot even within European groups in the EP think outside their national straitjackets)/anti-European parties feeding themselves with the deconstruction of Europe.

However, if there is one lesson to be drawn from these elections it is that over 25% of voters chose European small and medium sized, progressive, not anti-European and democratic political parties. These parties have worked on real programs and campaigned closest to the citizens, but are ultimately very poorly represented in the EP because of 28 non-European, anti-democratic election processes. In addition, for those who are represented they are melt downs in European parliamentarianism 'comitology'.

Some fundamental questions that involve not only the future of European citizens, but also the independence, peace and democracy in Europe, require these answers today. It is around these issues that were raised in the frame of our inquiry on "six burning questions" we launched in May: independence (TTIP), peace (Ukranian crisis), sovereignty (NATO, EEAS), democracy (elections) and Euroland. Here are the first results.
I. TTIP: 77% SUPPORT THE IDEA TO TAKE PART IN A EUROPEAN COALITION AGAINST THE TTIP IF CALLED!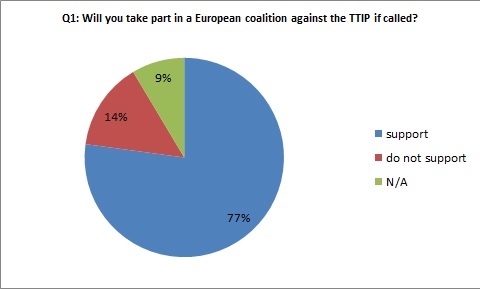 Among those who are willing to fight against the TTIP and to take part in a coalition, in a constructive way (not only an opt-out option), trans-European support from a majority of already well established medium political parties, like EUROPE CITOYENNE , France, ÖDP , Germany, the Italian M5S , PIRATES (see LU, NL, FR, SI), the ALLEANZA LIBERALI of Malta, the Dutch GROEN party (belonging to the Greens/EFA), and DIE LINKE, Germany, whose positions differ on other points of the questionnaire, including Euroland.
Most of smaller and medium, or emerging parties, progessistes and democrats, support such initative. They will be a good relay with the civil society in Europe (with or without elected candidates).
Only five political parties assumed their liberal political line and clearly indicated that they support the TTIP and would not join a coalition against the TTIP: CDH (Belgium), Forza Italia (Italy), 50plus (NL), PERUSSUOMALAISET (Finland), PARTIJA "SUVERENITĀTE", a Latvian sovereignist party.
SPA (SOCIALISTISCHE PARTIJ ANDERS - Belgium), Europe Ecologie (France) and SPÖ (Austria), 3 parties belonging to the major political groups in the EP, didn't answer by YES or NO, but made interesting comments.
The point is that those who didn't answer by YES or No, are, or were, mainly supporting the TTIP. The S&D, as political group inside the EP, voted in the same way than the liberals: supporting the fast-track bill given to the European Commission and also voted in favor of the last EP decision concerning the Financial responsibility linked to investor-state dispute settlement tribunals established by international agreements to which the EU is party.


II. Ukraine: 74% of respondents agree with the proposal to hold a Convention for Peace and Independence between the European heads of state of the Eurozone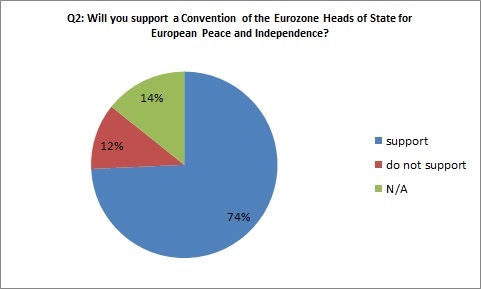 The main argument was of course that Europe is a continent of peace and of democracy.
"Even though I doubt that such an agreement will have any effect on the course of events in Ukraine, the European Union must remember that it was built to create a harmony between peoples and avoid wars of the past."
Finland is belonging to the Eurogroup and one Finn participant underlined also that « Finland must remain at all times in the future of Russia as a window to Europe. Russia is a great power next door to Finland, it has to be remembered.»
Ukrainian crisis calls for Europe to strengthen its independence from external powers. It is « necessary that the U.S. occupation forces go back home as the Soviet Union did it 23 years ago ». There should also be a strong call for the « creation of a new EU defense initiative, without NATO, so we are not subject to U.S. Influence. »
However, this requires that the European political class itself is renewed, we need European leaders that make other choices that the anti- or pro-Putin, Russian gas vs US shale gas without a real pro-European vision in energy.
For those who are against the proposal of the questionnaire, the question was essentially about who would be the actors of such an initative. The EU? difiuclt to make it with 28 members. A dedicated group of member states ? lack of universalism. Or a dedicated European body ? legitimacy issue.
Anyway 3/4 of respondents believe that the crisis should be treated by diplomatic ways between Russia Ukraine, EU, Russia, it is concerning our common borders.


III. NATO: 83% of respondents are in favor of the removal of all non-European military forces from the European territory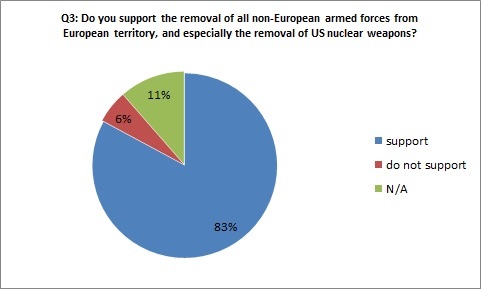 11% do not know because they have not studied the issue.
Only 11% support the presence of NATO but mainly because Europe itself doesn't have its own European army (see CHR (Belgium) and 50 Plus (Netherlands)).
In the current conflict the Europeans feel to be the doomed in a game against Russia (ALLEANZA LIBERALI MALTA). If Russia goes to war Europe will be attacked, not the United States (DIRECT DEMOCRACY IRELAND), they also recommend to separate from NATO, seen as the spearhead of a belligerent outpost of Anglo-American world (historically anachronistic), which does not provide a peaceful and constructive vision in the new world order including the borders of the EU (NOUVELLE DONNE - France, PRIAMA DEMOKRACIA – Slovakia, MSA – France).
The ÖDP (Germany) said that not only nuclear weapons but also drones must be removed. Die Linke (Germany) a new European military force must be thought in partnership with Russia to take over NATO. Sovereignist parties are for dissolution of NATO and the strengthening of national armed forces (Perussuomalaiset, Finland).


IV. EEAS: On this question 83%, almost all survey participants, insist on the malfunction of the EEAS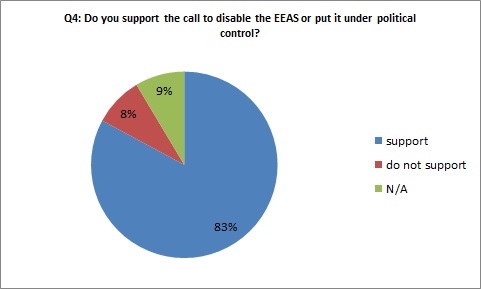 On this question 83%, almost all survey participants, insist on the malfunction of the EEAS and agree to at least to put it under democratic supervision.
It is a question of democratic legitimacy of the European institutions, if we do not want the EU to drift towards a totalitarian body (among others: SLOVENSKÁ ĽUDOVÁ STRANA – SLS – PIRATENPARTIJ...)
They agree on the need to strengthen the powers of the European Parliament in this matter, the appointment of a Vice-President for External Affairs... the control by elected politicians ... (OEDP, GREEN, PIRATES, EUROPE PEOPLE, NEW DEAL, DIE LINKE ...)
8% of respondents felt the need to disable the service and return on national foreign policies (PERUSSUOMALAISET, Finlande – EU-STOP.AT)
V. EU REFERENDUM: 86%, almost the majority of respondents supported the proposal to use a referendum for any modification of the European Treaty or enlargement process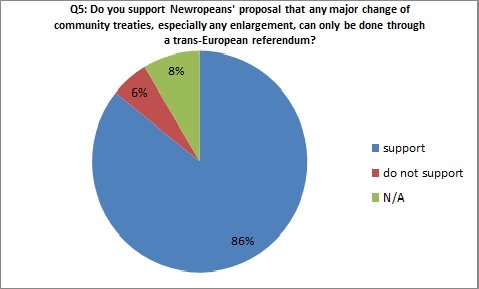 To be held the same day in Europe! (CILUS, Ciudadanos FREE UNIDOS), obvious to most parties (Näin demokratia toteutuisi ! PERUSSUOMALAISET, Finlande)
"trans-European referendum, trans-European elections (with transnational parties - with programmatic transnational platforms) …" Pleads EUROPE POPULAIRE, like so many others.
The conditions is also to have democratic processes not diverted by major traditional parties, or allow to bypass the undemocratic national ones (ALLEANZA LIBERALI MALTA).
The OEDP notes however that this type of decision can not be used in armed conflict context in which the European Council will only be legitimate to take decision. EU-STOP.AT also proposes national referendums when European decisions hit prerogatives or national laws. European Pirates parties, have in their program for the elections the project to submit old and new treaties to the European agency for human rights .
8% Do not know because they do not know Newropeans proposal.
THE CDH (Belgium) meanwhile do not see the necessity of such a measure.
The European Parliament must be the political body which by nature must be submitted for ratification of future treaties (while associating national parliaments). « We propose the Parliamentary approval as a tool for ratification of future European Treaty. Regarding enlargement, we want the European enlargement policy to be more binding, strict in the control and compliance with the Copenhagen criteria by the candidate countries. »


VI. EUROLAND: 72% are in favor of the proposal to build a democratic Euroland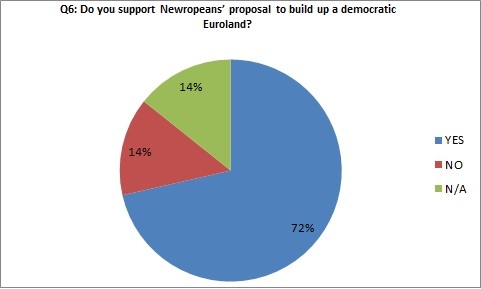 The questionnaire was addressed only to political parties in the Euro area + Poland. But the Polish political parties do not feel concerned by the questionnaire.
Two criteria guide the decisions of those who are in favor of Newropeans' proposal: democracy and the need to have a good governance.
For the "Eurolanders" any European decision-making structure, whatever its level of integration could be, must be democratically controlled, so it is in decision making processes that affects the Euro zone.
All means all efforts to achieve more democracy in Europe deserve to be supported.
For NOUVELLE DONNE "It has become almost impossible to progress effectively with 28 countries, with heterogeneous levels of integration and different economic and social objectives. To move faster and get results, it became necessary to create a tighter pole around those countries willing to implement solutions that citizens expect. ... - This is also the condition for building a more democratic Euroland. For EUROPE POPULAIRE there is a need of "appropriate tools, a central bank with extended or adapted missions, an open and serious political control and the establishment of an effective FME. EUROPE POPULAIRE defends the idea and especially the implementation of a more integrated Europe, through firstly a locomotive, a "Heart » of Europe.
It should be noted that the Irish parties in the heart of the Euro, said they wanted to better understand this Euroland issue before answering.
Among the parties who do not support, the sovereignist parties, anti-Euro (EU-STOP.AT) or anti-system (Partido da Terra, DIE LINKE).


Some figures:
At the beginning of May, Newropeans launched the operation : "Burning issues for historical European elections: Citizens storming Europe! "
->
The first transeuropean political questionnaire
->
6 Burning questions
:
Will you take part in a European coalition against the TTIP if called?
Will you support a Convention of the Eurozone Heads of State for European Peace and Independence?
Do you support the removal of all non-European armed forces from European territory, and especially the removal of US nuclear weapons?
Do you support the call to disable the EEAS or put it under political control?
Do you support Newropeans' proposal that any major change of community treaties, especially any enlargement, can only be done through a trans-European referendum?
Do you support Newropeans' proposal to build up a democratic Euroland?
->
traduced in 14 different languages
->
sent to 19 European countries (Euro zone + Poland)
->
sent to 900 persons
, heads of lists of political parties non anti-european candidates for EP elections in May 2014
->
around 50 answers, most of them from small and medium sized political parties
-> more than 500 recalls
-> in cooperation with Newropeans-magazine, AAFB, LEAP, IRPA (International Council of Political Anticipation) and FEFAP (Foundation for Education and Training in Political Anticipation).
More about:
-> The
N'Plateform
->
BURNING ISSUES FOR HISTORICAL EUROPEAN ELECTIONS
(the questionnaire)
->
Questionnaire on six burning issues: Results
/
Six questions brûlantes d'actualité: résultats de l'enquête
->
July 5th, 2014: First trans-European meeting of small and medium sized political parties
-> [Press Release]
At the dawn of the 25th anniversary of the fall of the Berlin Wall
- Berlin, July 5th, 2014 - First meeting of small and medium sized European political parties, a powerhouse of political innovation in Europe
->
1989-2014: D'un mur à l'autre
(Marie-Hélène Caillol, workshop 2) Ukraine)
->
Demain, la chute du mur du Dollar
(Bruno Paul, workshop 3) NATO)
->
Towards a real European democracy, trans-European electoral procedures
(Christel Hahn, workshop 5) democratisation)
Contact:
Victoire Baeyaert, coordinatrice de projet
vbaeyaert@newropeans.eu