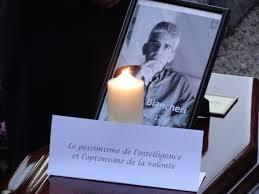 In Memoriam

Franck BIANCHERI
Nice 11.03.1961
Paris 30.10.2012
On October 30, 2012, Franck left us after a long battle against the disease.

In his memory, his friends will meet in Brussels on November 8, 2014 (Aloft Hotel Brussels Schuman)

We follow his steps and keep alive his fight for democracy, Europe and the future generations.
In tribute to his parents, daughter and companion

Association des Amis de Franck Biancheri

"Pessimism of the intellect,
optimism of the will"
---
In Memoriam

Franck BIANCHERI
Nice 11.03.1961 - Parijs 30.10.2012

30 oktober 2012 verliet Franck ons na een lange strijd tegen de ziekte.

Ter nagedachtenis van hem, zullen zijn vrienden elkaar ontmoeten in Brussel op 8 november 2014 (Aloft Hotel Brussels Schuman)

We volgen zijn voetsporen en houden zijn strijd levend voor democratie, Europa en de toekomstige generatie.
Als eerbetoon aan zijn ouders, zijn dochter, zijn partner.

Vereniging van Vrienden van Franck Biancheri

«Pessimisme van het intellect, gecombineerd met het optimisme van de wil »
---
In Memoriam
Franck BIANCHERI
Niza 11.03.1961 - Paris 30.10.2012

A 30 de outubro de 2012, Franck deixou-nos após

uma longa batalha contra doença.

Em sua memória, os seus amigos vão-se reunir em Bruxelas, a 8 de novembro de 2014 (A-loft Brussels Schuman Hotel)

Nós seguimos os seus passos e mantemos viva a sua luta pela democracia, pela Europa e pelas futuras gerações.
Em homenagem aos seus pais, a sua filha, e a sua companheira.

Associação dos Amigos de Franck Biancheri

"O pessimismo da inteligência aliado ao otimismo da vontade"
---
In Memoria


di Franck Biancheri
Nizza 11.03.1961 - Parigi 30.10.2012

Il 30 ottobre 2012, Franck ci ha lasciato dopo una lunga battaglia contro la malattia.
In sua memoria, i suoi amici si ritroveranno a Bruxelles l'8 novembre 2014 a l'Aloft Hotel Bruxelles Schuman.

Seguiamo i suoi passi e manteniamo viva la sua battaglia per la democrazia, l'Europa e le generazioni future.
In omaggio ai suoi genitori, sua figlia e la sua compagna.

Associazione degli Amici di Franck Biancheri

"Il pessimismo dell'inteligenza insieme all'ottimismo della volontà"