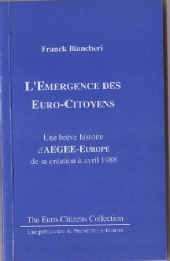 Editions Anticipolis, is glad to announce the republication of the "Little Blue Book" -better known as:
"The Emergence of Eurocitizens

A brief history of AEGEE-Europe

From its creation to April 1988"


Precisely 30 years ago, in 1985, in a Europe that was wrapping up its economic union and beginning to put its political integration into perspective, Franck Biancheri contributed significantly to the challenge of forming new generations of Euro-citizens by creating AEGEE-Europe. And two years later, to prove that Europe indeed had a huge need of Euro-Citizens, AEGEE, still under Franck's leadership, enabled the adoption of the ERASMUS program, today's undisputed flagship of the European construction… at the time blocked by national administrations.


Keeping that in mind, Franck Biancheri then on relentlessly fought for the democratization of the EU… not for moral reasons, but for very practical ones: just like Erasmus would never have seen the light of day without AEGEE students, Europe would get nowhere without the European citizens.


Today, with the European project engaged in a process of reinvention of its meaning, efficiency and connection to its citizens, it was logical to reprint this "Little Blue Book", written in 1996 by Franck Biancheri with a view to clarify the initial ambition of the project of AEGEE.


Europe, partly devastated by the global systemic crisis, needs more than ever these AEGEE-Europe Euro-Citizens. Franck, who passed away in 2012 at the age of 51, is no longer there to convince us about this point, but he left us such a heritage … Let's read his words again … now!


The Little Blue Book is available on Anticipolis website in french, english and romanian (paper and digital formats)