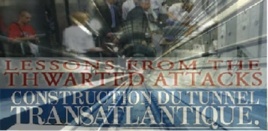 Après le tunnel sous la Manche, le tunnel transatlantique. La France se sera jamais montrée aussi anti-européenne
Today, European citizens discovered that the GE (General Electric) considers buying Alstom's energy sector, depriving not only France but Europe of two key sectors in its development as a continent at the head of world industry and research, both in the transport sector than energy.
Newropeans, the only trans-European political movement, is convinced that only a merger between Alstom and Siemens is of a common and strategic European interest.
A merger between Alstom and GE would severely hamper trans-European consolidation efforts in the energy and economic spheres. As a general policy, Newropeans fully supports an independent evolution of the political and the business spheres. But today, under the spotlight of the finacial and now the Ukrainian crises, the energy and economic spheres directly affect the process of effective European integration, independence and leadership. Newropeans sees it as a political duty to voice its opinion to put things in perspective for all European parties involved, France, Germany as well as the European institutions.
Newropeans supports and shares the concerns of the French Minister Arnaud Montebourg and regrets the amazing silence of our supposed European leaders
regarding what could in the end become a sell-off of the enreegy and transport markets dimension of the European Union. In this field the lack of a real trans-European industrial energy policy allows the U.S. to enter market niches that are available to him. In this way they will also impose production processes European citizens do not want and could be cause for rejection of TTIP, namely fracking.
.
While the negotiations of the TTIP seem to be somehow delayed, the US is trying to enter the European market through other doors. The brutal announcement of the acquisition of Alstom by GE has no other purpose than to enter the European energy market as quickly as possible cutting Europe from other energy sources, especially with the BRICS countries.
.
While the EU's national politicians are unable to position themselves in view of a common European interest, EU bureaucrats do not express relevant opinion which could go against external lobbies.
For decades, European citizens have given policy makers the mandate to bring forward European integration, and most notably European economic integration and a real European energy policy. In contrast, there has never been any democratic mandate to develop transatlantic economic or financial integration.
The French government is the biggest traitor of the EU, its prime minister as his foreign minister, Fabius, who has captured the International Trade Portfolio, make every effort to deliver the European market to purely financial and economic americanist interests.
For Newropeans, a transatlantic market place, if any, should result from a joint and democratically legitimated will on both sides of the Atlantic.
The time to build transatlantic (or transcontinental) market instruments will come when the European integration on these aspects is achieved, and when a democratic mandate is given to open such a process (and the TTIP is not such one).
For the time being, it should be the EU's top priority to consolidate integration achieved in recent years
. Trans-European enregy and transport markets are key elements of strategic importance in this. Newropeans sees main arguments why it is in the common European interest to see a Alstom-Siemens merger rather than a Alstom-GE one:
1) The sale of Alstom affects the French but also European energy security
The approach of General Electric is to absorb Alstom's energy activity which will be managed by GE Energy putting energy security with nuclear in hands outside the European market. Sovereignty of choice, control of technologies and industrial capabilities have to remain in the hands of Europeans, as we can see with the Ukranian crisis (control of energy resources and the choice of these, supply, and regulation thereof, as the agreements with partners countries). We need a further integrated EU energy policy to defend our sovereignty and independence.
2) EU's energy and transport markets require deeper integration to become a strong support for the EU's economic development.
EU is a pioneer in technological innovation both in the field of transport (first high speed trains TGV (Alstom) and ICE (Siemens)) and energy (nuclear, sustainable energy ...), a further integrated EU transport market would help European companies to gain competitiveness with US or Asia corporate actors. Seling it of to foreigners interests is contrary to such integration process and damaging for European companies. A sale of Alstom GE is particularly damaging to Siemens and settles direct competitor on the European market, while the reciprocal is not true on the U.S. market.
3) A transatlantic market consolidation should result first of all from a transatlantic cooperation in regulative activity, endorsed by business and political leaders on both sides of the Atlantic, not from the initiative of a handful of investors and speculative operators
.
Good arguments can be made to support a transatlantic consolidation. This would not only include cross-border mergers of companies, but also transatlantic cooperation in regulative activity. On the other hand, if the debate on a transatlantic harmonisation of standards develops, the EU has a strategic interest to first form its own homogeneous and efficient economic market. This concerns politics (in the sense of EU-internal liberalisation, EU-wide regulation and surveillance) but also private actors such as Alstom, Siemens etc. who should put their energy into developing trans-European trading platforms first before they go transatlantic.
4) Finally, Alstom has been largely financed by public funds, taxes on French and European citizens
. Bouygues has gain a maximum of profits must also be accountable to the state, EU and taxpayers.
We do not need a remake of the EURONEXT - NYSE - DEUTSCHE BÖRSE - case, which had the effect of delaying the emergence of a genuine economic and financial sovereignty of the Euro zone, placed under guardianship our businesses, and replenish the accounts of banks and multinational companies located principally in the United States, allowing the US market to keep up while fighting Euroland through our member states and our currency, endangering the very concept of the European market and the future of Europe and Europeans in the world.
For immediate release Newropeans Press Office
(28/04/2014)
DE:
ALSTOM - SIEMENS ist die einzige Fusion im gemeinsamen europäischen strategischen Interesse
FR:
ALSTOM – SIEMENS: le seul rapprochement dans l'intérêt stratégique commun de l'Europe
---
Links:
.
Alstom-General Electric-Siemens: un choix cornélien qui a besoin de temps
(Le Monde)
.
EURONEXT - NYSE - DEUTSCHE BÖRSE - Newropeans opposes Euronext/Nyse merger
(NM)
.
Berlin begrüßt Siemens-Konter Paris macht Alstom zur nationalen Sache
(N-TV)
.
GE's Alstom Bid Gains Steam as Hollande Said Not Opposed
(Bloomberg)